Taking street performing to a new level, Karolina Protsenko has been featured on The Ellen Show. She has amassed a massive following across her social media profiles. All filled with fans who can't get enough of her unique playing style.Ukraine turned US native Karolina Protsenko is a 13-year-old violin prodigy. Coming from a talented musical family, Karolina has taken the social media world by storm through her various busking videos.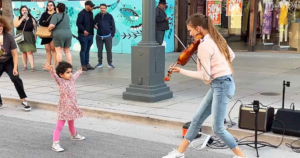 Karolina Protsenko's take on the famous Dua Lipa track, "Levitating," takes the renowned pop track to a new level, transforming the wonderfully catchy tune into an orchestrated masterpiece Karolina's bread and butter are taking popular music to a different musical spectrum by creating astounding atmosphere building numbers that genuinely transform the tracks she decides to perform.
During Karolina Protsenko's cover of "Levitating," an adorable girl can be seen busting her dance moves alongside Karolina's footwork and playing, creating a family-friendly bubble that children instantly gravitate to.